148 Squadron

Badge: Two battle axes in saltire.
The battle axes were selected as being well-tried and formidable weapons.
Motto: "Trusty".
Authority: King George VI, February, 1938.
Based at Upwood from: (November 1946 - July 1955)
Type of Aircraft:
Avro Lancaster B.I. (November 1946 - February 1950)
Avro Lincoln (January 1950 - June 1955)
148 Squadron at Upwood in 1952-53
148 Squadron Lincoln RE295 at Upwood

Left to Right, Me, (Sean Edwards) Peter Snook and Marcus Goodman
At Ramsey 1940s Weekend held at RAF Upwood. 19th August 2007


Ramsey's 1940s Weekend August 2008
L to R. Me Sean Edwards, Marcus Goodman, Tony Luchetti,
Peter Snook (148 Sq), and Ron Swain (148 Sq).
Peter Snook
Peter under a Lincoln which was on a 'Pan' near hangar 2
Peter waiting for the C/O to land after night flight 1951-52
148 Squadron dispersal was at the back of the airfield by the gate to Biggin lane
The view across the Rugby field from Peter's billett towards the Bury-Ramsey road.
Taken after the filming of 'Appointment in London'
Front row
4th from left Bill Kerr
5th from left Bryan Forbes
4th from right Ian Hunter
6th from right Sid
Peter Snook is under the starboard outer engine
Dirk Bogard and Dinah Sheridan are not in the picture

Christmas menue with signed by 148 Squadron members
Below are pictures taken of 148 Squadron at the Dolphin, St Ives Hunts.
Peter Snook with the C/o, Peter was also his driver. "Chiefie"is on the right
148 Squadron C/o
Chiefie does his turn!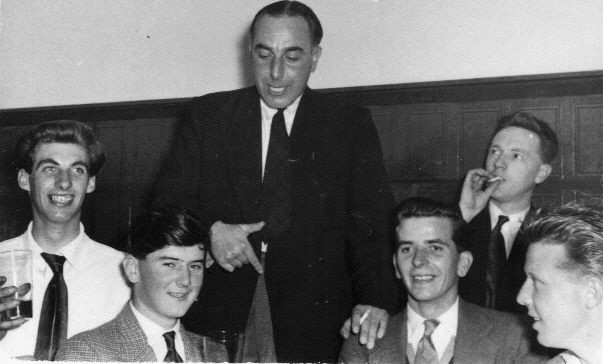 1954 Sgt Ron Medland, SAC. G. Fitzgerald 148 squadron dispersal



148 squadron groundcrew AOC's parade 1954 Upwood SGT medland



Books on 148 Squadron
Ron Swain has published a book on 148 Squadron during his National Service
281 Pages
ISBN 1-84683-002-8
Cost £15
Published by Woodfield
www.woodfieldpublishing.com
I will be adding the History of 148 Squadron at Upwood very shortly.
My thanks go to Peter Snook for all the pictures on this page
5/5/07