No. 21 Squadron

Badge: A hand erased at the wrist, holding a dumb-bell.
The dumb-bell was used as a badge by the squadron in 1917 and symbolises strength.
Motto: "Viribus vincimus" ("By strength we conquer").
Authority: King George VI, July, 1938.
Unoffical W.W.2 name: "Norwich's 'own' squadron".
Based at Upwood from: (October 1958 - January 1959)
Type of Aircraft: English Electric Canberra
No. 21 Squadron Royal Flying Corps was formed at Netheravon on 23 July 1915 equipped with the Royal Aircraft Factory R.E.7. With six-months training the squadron was sent to the France in early 1916. After a number of changes of aircraft it became established with the R.E.8 and gave a good account of itself. It was responsible on one day during a battle at Messines of putting 72 German batteries out of action. After the end of the war the squadron handed over its aircraft to 13 Squadron and was disbanded on 1 October 1919.
No 21 squadron reformed as a bomber squadron at Bircham Newton in December 1935 and equipped with the Hawker Hind two-seater day bomber. It later moved to Abbotsinch, Lympne and Eastchurch, and on the outbreak of war was based at Watton, Norfolk. During the early part of the war 21 squadron played a prominent part in 2 group offensives against shipping in the English Channel and the North Sea, and "fringe" targets on the Continent. The squadron went to Malta in January 1942, and, flying from Luqa attacked shipping in the Mediterranean and land targets in North Africa. It was disbanded in the 14th March of that year, and re-formed the same day in England. Equipped with the Lockheed Ventura and operating from Methwold 21 squadron made a daring low-level attack on the Philips radio hand valve factory at Eindhoven.
21 Squadron continued daylight operations with Venturas-albeit spasmodically-until early September 1943 and soon afterwards began to convert to the F.B.VI version of the de Havilland Mosquito- the Famous "Wooden Wonder"
The squadron is famous for Operation Jericho: on February 18, 1944, the crews of de Havilland Mosquitoes breached the walls of a Gestapo prison at Amiens, France, allowing members of the French Resistance to escape.
One of No. 21's Mosquitoes, LR385 "D-Dog", made 104 operational sorties (on 91 of which bombs were dropped) with the squadron. It flew its first op, on 6th February, 1944 when it bombed a V-weapon site at Bois Coquerie, and its 104th op. on 29/20th November 1944, when it bombed a railway including a train and also strafed a factory during a patrol immediately behind the battle line.
With the war over 21 squadron operated courier services between Furth airfield (Nuremberg) and Blackbushe during the period of the war criminals' trails. It was disbanded in Germany in November 1947, and next appeared in September 1953 when it re-formed as a Canberra bomber unit at Scampton. After visits to Austria, Cyprus, the Sudan, East Africa, Aden and Bahrein in 1955 the squadron was based at Waddington. Yet disbandment came again in June, 1957, but on 1st October 1958 it was brought into existence again when No. 542 Squadron, just returned from detachment at Laverton, Australia, was re-numbered 21 based at RAF Upwood. Disbanded again in January 1959 No. 21 was re-established on 1st May 1959, at Benson as a light transport squadron, and since then, flying Scottish Aviation Twin Pioneer aircraft, it has served overseas in Kenya.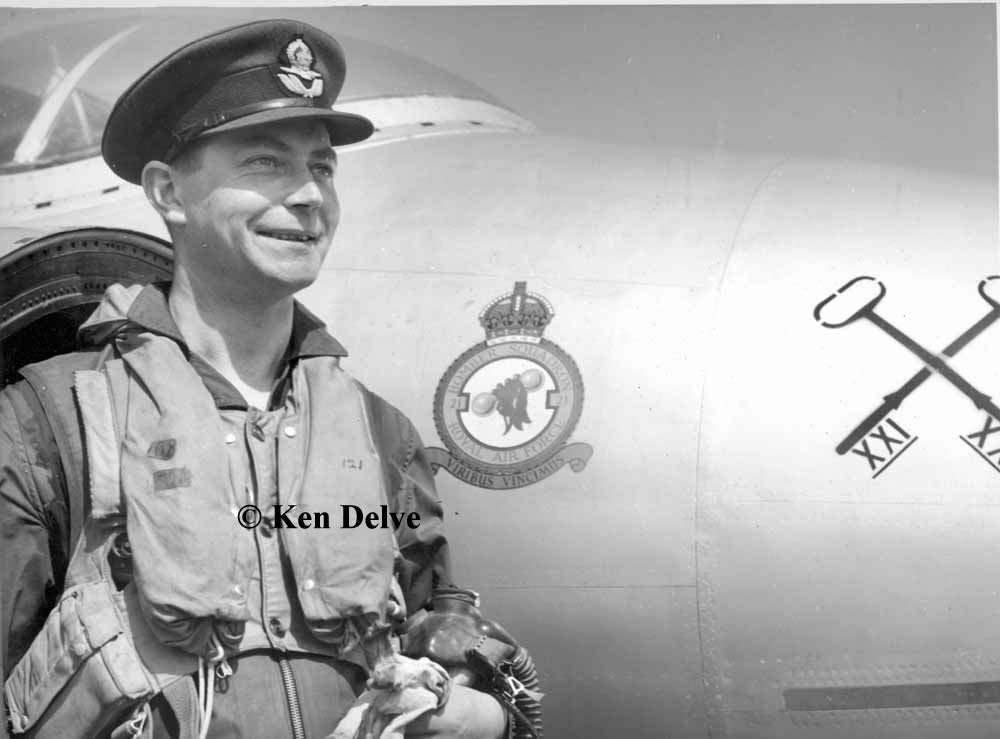 Squadron Leader N.B. Freeman, CO of 21 squadron
© Ken Delve

Sean Edwards