S/L Allan George DFC DFM, F/L Rupert Vivian Broad DFC

Squadron Leader Allan George DFC DFM RNZAF 403441 and Flight Lieutenant Rupert Vivian Broad DFC RAFVR 115721
A RAF 139 (Jamaica) Squadron Crew
Allan George and Vivian Broad served as aircrew on 139 SQDN within 8 Group of RAF Bomber Command from November 1944 to May 1945 flying a total of 40 operational Pathfinder bombing sorties on the De Havilland Mosquito. Vivian passed on in 1991 Allan died late 2014. This brief overview is written to remember them.
Allan and Vivian were just one crew of many but as their generation become ever fewer and they are also now both gone it seemed important to briefly record and to acknowledge the contribution of these gallant men who with the thousands of others served in Bomber Command to defend our freedom and decency. The RAF Upwood website is an appropriate place to do this as particularly Allan considered his service at RAF Station Upwood, on 139 Squadron and that unit's aircraft, the remarkable Mosquito (mainly the Mk XVI and XX variants) as the high point of his life until the end of his days far away in New Zealand at the end of the old Empire whose values he held so dear.
Allan and Vivian both enlisted in the RNZAF and RAF respectively in late 1940. Allan was 22 years old and a farmhand on the family farm situated in the rich dairy country of South Taranaki close by the small town of Manaia. Vivian was 9 years older than Allan and at 31 was already a successful and at the time the youngest ever manager within the UK division of the American based "five and dime" chain store company, F.W Woolworths. Vivian was from near Hastings, East Sussex and immediately prior to his war service was managing the Woolworths store in Penzance, Cornwall.
In 1941 Allan completed flying training at the newly established flying schools at Bell Block, New Plymouth and RNZAF Ohakea. He was awarded his brevet or 'Wings' during February. During early 1941 Vivian underwent training as a Wireless Operator/Air Gunner at Yatesbury, Stormy Downs and RAF Horsham St Faith. By mid 1941Allan had disembarked in UK and was undergoing his conversion on the Vickers Wellington at 20 Operational Training Unit (OTU) at RAF Lossiemouth while Vivian was attending his Wellington conversion on 11 OTU then based at RAF Bassingbourne. In September 1941 Allan and Vivian were "crewed up" with four others and posted to RAF 115 Squadron at RAF Marham to commence their first tour of operations flying the Vickers Wellington (Mks I, II and III).
Martin Middlebrook and Chris Everitt's The Bomber Command War Diaries records that RAF 115 Squadron "carried out most raids, flew most sorties and suffered most losses of any Wellington Squadron in Bomber Command". When the Squadron transferred to the Lancaster in March 1943 it had experienced an overall loss rate of 3.2 percent and 98 aircraft lost while operating the Wellington. That rate of attrition provided only about a 40 percent probability of a crew surviving a tour of 30 operational sorties (see The Science of Bombing by Randall T. Wakelam).
For the period February to May 1942 Bomber Command War Diaries states "The casualty rate for night operations in the next few months would be slightly higher than any previous period of the war and the reports from Germany in this diary will show that there would be as many disappointments in bombing results as successes".
Their aircraft occasionally experienced minor flak damage including holes in the airframe and aerials shot away but Allan and Vivian's crew survived their first tour of 33 operations which was completed in May 1942. Early in the tour on the night of 16 October Allan was awarded the DFM for his management of an emergency. During that sortie both engines of his aircraft lost power (for reasons that remain unknown). He continued to the target which he bombed from a low altitude and unable to maintain level flight his aircraft was descending through 1000 feet at full throttle when he re-joined the circuit at RAF Marham and requested a "straight-in" landing.
Toward the end of the tour on the night of 14 April 1942, their Wellington FX 3675 was hit by flak while bombing from 16,000 feet and the 115 SQDN Operations Record Book (ORB) reports the aircraft was also attacked by a fighter. Severe damage was sustained by the aircraft and the rear gunner was wounded. Damage included fracture of a main fuel line which caused power to be lost by both engines and an attending loss of height. Petrol flooded the fuselage presenting a great risk of a catastrophic fire. Quick-thinking Wireless Operator Vivian Broad immediately used bandages from the aircraft's first aid kit to repair the fuel leak and thus restored power to one engine enabling the aircraft to safely recover to base. (The remainder of the crew on that occasion are named by the squadron's ORB as follows: (Co-pilot: Pilot Officer Rohde, Navigator: Flying Officer Critchley, Front Gunner: Sergeant Beecroft and Rear Gunner: Sergeant Esling) Both Allan and Vivian were awarded a DFC in recognition of their actions during this incident.
The crew had survived the tour on 115 Squadron but from available information (which is inconclusive), it appears that Pilot Officer, later Squadron Leader Rhode DFC and Sergeants Beecroft and Esling did not survive the war and were amongst the almost 56,000 killed while on active service in Bomber Command during WWII.
On completion of the 115 Squadron tour Vivian was posted as a Wireless Operator/ Air Gunner instructor on 11 Operational Training Unit initially at RAF Bassingbourne and then at RAF Westcott when the unit relocated in September 1942. After receiving some further training at Central Flying School Allan was also posted to 11 OTU as a flying instructor where he served until February 1943 when he undertook a RAF Staff Course at RAF Uxbridge. In October he returned to NZ to assume command of one of the RNZAF's technical schools at RNZAF Base Woodbourne (at the northern end of NZ's South Island).
In March 1943 Vivian qualified as an Air Bomber and Navigator and was then posted for his mandatory second tour of operations with RAF 192 Squadron located at RAF Gransden Lodge where the unit operated specially modified Wellingtons and Mosquitoes whose task it was to monitor German radio and radar transmissions to determine not only frequencies, wavelengths and pulse lengths of signals but also the content and purpose of communication. To conduct this task 192 Squadron aircraft occasionally flew within or close to the bomber "stream" but also operated alone over Europe, the Mediterranean and the Bay of Biscay. The work was secret and Vivian was unlikely to have been permitted to discuss it even long after 1945. Vivian flew 25 operational sorties with 192 Squadron. And on completion of his second tour in October 1943 he was posted as an instructor first to Number 1665 Heavy Conversion Unit at RAF Woolfox Lodge and in November to 12 Operational Training Unit at RAF Benson. Vivian was posted to Bomber Command HQ at High Wycombe in February 1944 where he served with the PR section performing factory liaison duties.
The service of both Allan and Vivian would have enabled them both to occupy their ground jobs until the cessation of hostilities as both had fulfilled the mandatory requirements of the RNZAF and RAF respectively. It is not clear how the next stage of their career as a crew was achieved because the applicable file has apparently been "purged" of that part of the record but in October 1944 Allan had returned to UK and both Allan and Vivian commenced their Mosquito conversion with 1655 Mosquito Training Unit at RAF Warboys At the end of the month they were posted to 139 (Jamaica) Pathfinder Squadron within 8 Group at RAF Upwood where until the last bombing sortie in May 1945 they flew together on 40 raids with AVM Bennett's Light Night Striking Force (LNSF) including 20 sorties to Berlin during March and April 1945. On 30 March 1945 their aircraft was attacked by a Me 262 which fired just above the aircraft from astern.
Not much is known about the detail of the crew's time with 139 Squadron except in Allan's scarce available record he expresses his pride at being part of the RAF's effort within 139 Squadron, flying as a crew with Vivian and operating the Mosquito which could carry about the same bomb load as his Wellington but at 170 MPH faster, 300 miles further and at twice the altitude while handling beautifully (when everything was going well). At war's end Allan had flown 73 operational sorties and Vivian just short of 100. They were both awarded their highly valued Pathfinder Badge on 18 May 1945.
Allan was posted to South East Asia Command in July 1945 where he met and in 1946 married a WAAF, Frances Low who had served most of the war within the operations rooms of 11 Group Fighter Command. Frances had lost her first husband Flying Officer John Charles Low RAAF over Normandy when he was shot down in his Mustang while serving with RAF 168 Army Cooperation Squadron just after D day in 1944. Allan persevered in the peacetime RNZAF until 1955 when he returned with Frances and a large family to the family farm where they lived until both passed away in 2014.
Vivian had in late 1943 also married a WAAF Operations Room specialist, Section Officer Beatrice Fanny Jean Baker.
After serving with RAF 162 Squadron at RAF Blackbushe performing the post hostilities Air Despatch Letter Service (ADLS) which required the timely delivery of correspondence throughout the European theatre Vivian left the RAF in October 1945 and returned to his successful business career with F.W Woolworths.
The odds of Allan and Vivian surviving their exposure to operational risk in Bomber Command were very small indeed. The continued mental strain of enduring that pressure and then "going again" immense. They endured and fought a terrible battle night after night. They were amongst the pick of their generation. The effects of loss of those who died or were wounded in Bomber Command is immeasurable. The enduring scars on those who survived generally unrecognised. Allan and Vivian were one crew amongst thousands who went out and did what had to be done for the survival of Britain and Allied victory.
Crispin George CAPT AM RAN Retd April 2015

Motto: "Despite the elements"



115 Squadron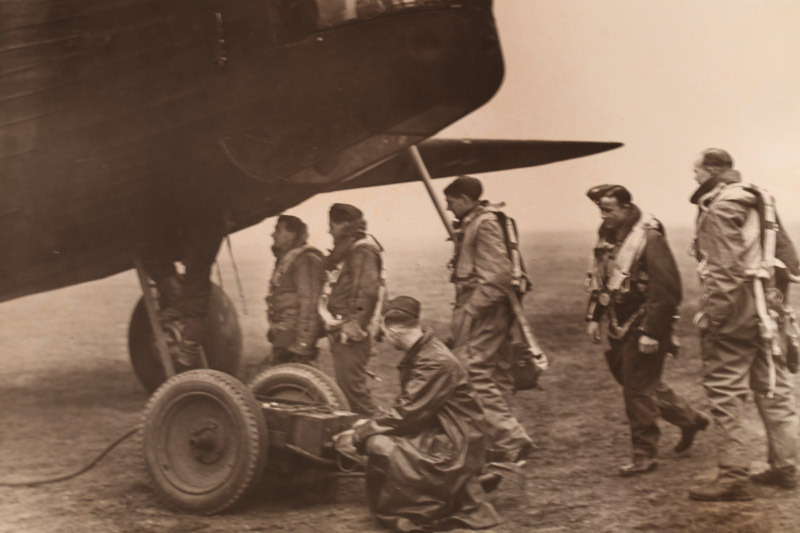 115 Squadron
DFM and DFC Citations (in date order)
SGT Allan George NZ.403441 R.N.Z.A.F., No 115 Sqn.
This N.C.O., flying a Wellington Mk.II for the first time, was detailed to attack a target at Duisburg on the night of 16/17th October, 1941. Soon after crossing the Zuider Zee at 13,000 feet, both engines commenced to lose power and the aircraft would not maintain height. In spite of this, Sergeant George continued to the target area and was forced to drop his 4000lb bomb from 9,000 feet. His aircraft was subjected to most accurate and intense anti-aircraft fire and due to the fact that he could not afford to lose any more height, little avoiding action could be taken. By the time he was clear of the Ruhr area, height was only 7,000 feet. He was further handicapped by an unserviceable radio transmitter and nothing was heard until the aircraft contacted on the base R/T when Sergeant George coolly said he must land immediately because he was at 1,000 feet and could not maintain height. This he carried out safely even though he was slowly losing height in the circuit at full throttle. Subsequent technical investigations have determined that with full throttle, both engines were giving only 3lbs. boost pressure and 2,200 revs; both engines are now being changed. The above is typical of the spirit of determination which has been shown by this young Captain in all his sorties. On a previous occasion, his second trip as Captain, the airspeed indicator went unserviceable early on in the outward passage, yet he carried out his mission through to a successful conclusion when a less determined individual might well have abandoned the effort. The N.C.O. is an exceptionally able bomber Captain and his courage, initiative and resource without doubt have had a marked effect on the younger members of the squadron. Recommended for the award of the Distinguished Flying Medal. Dated 18 October, 1941.
P/O. R. V. BROAD. R.A.F.V.R., No.115 Sqn. - This officer is an extremely efficient first wireless operator who, apart from his primary duties, is fully conversant with many of the duties of the remainder of the air crew. On a recent sortie he displayed great coolness and resource when a shell splinter broke the main pressure feed fuel pipe and petrol was being lost at the rate of two gallons a minute. P/O. Broad held the severed pipe together until help arrived from other members of the crew. He then spent half an hour effecting a temporary repair, working in fumes which, at times, made him sick. Although it was impossible to stop the wastage completely, his effort effectively reduced it. For the next two hours he took turns, with the navigator and second pilot, in holding the binding tightly together. P/O. Broad has participated in attacks on many highly defended targets, including Brest, Wilhelmshaven, Hamburg, Kiel and Cologne. He is a keen and courageous officer.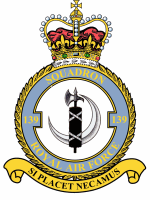 Motto: "Si placet necamus" ("We destroy at will")




139 Squadron Pathfinders

139 Squadron Pathfinders Group photo December 1944
Thanks go to Cris George CAPT AM RAN Retd. (son of Allan George)
For all his time in sending the pictures and Information to make this page.