R.A.F. UPWOOD
Huntingdonshire
Keeping their memories alive.
Travelling back to 1940s Airfields Website
Click here


RAF Upwood from 2018 to 1940s


New Memorial Wall at Upwood 9th November 2020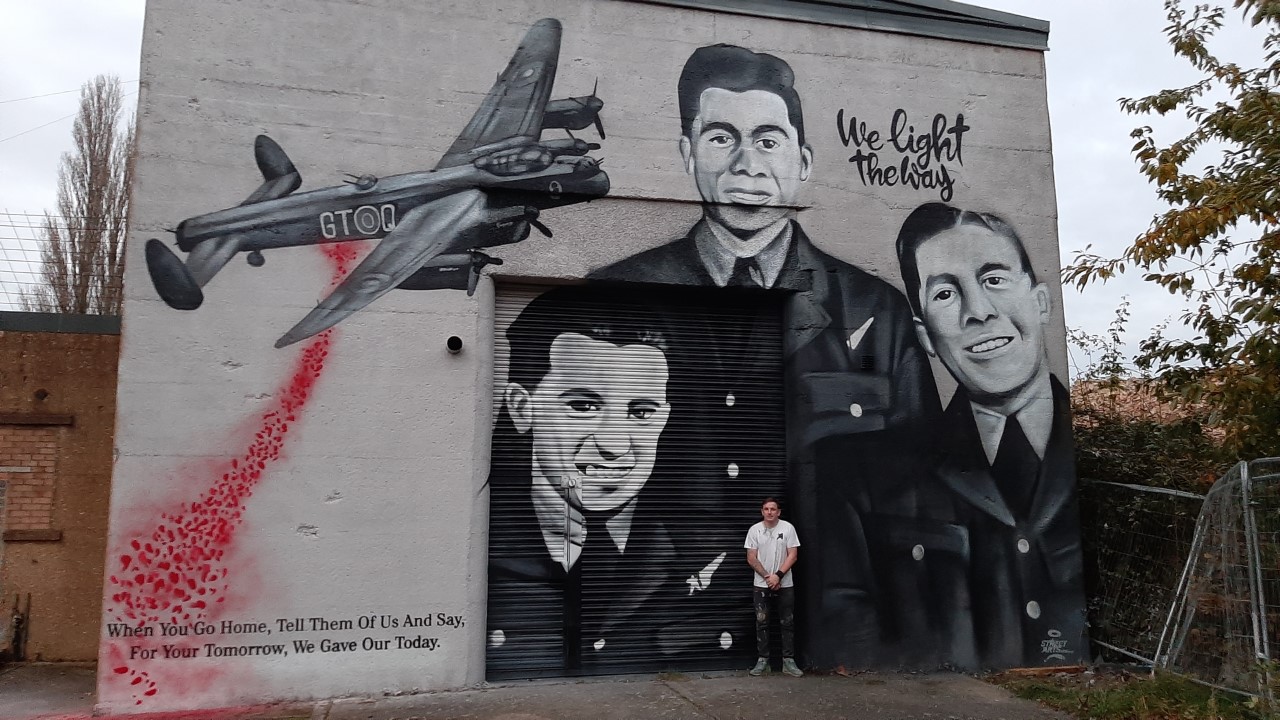 A new memoral wall has been added at RAF Upwood
Nathan Nice from Streets Arts Hire spent 3 days working on this piece for free.

The Lancaster GT-Q ND875 is a special 156 Squadron Lancaster that covered 108 Ops,
only 35 Lancasters ever made over 100 Ops in the whole of Bomber Command out of 7377 built.

"We Light The Way" at the top corner is the motto of 156 Path Finder Force Squadron

The 3 Men
Middle is F/S John Watson (Jack) DFM Flight Engineer/Bomb Aimer with 77 Ops
Right is F/S Weston Appleby (Appy) DFM and a Belgian Croix de Guerre with palm was a mid uppper gunner 80 Ops.
Left is F/S Albert Wilson (Bert) DFM Wireless Operator 76 Ops.

Many thanks go to:
Jack Watson for allowing us to use his photos, Jack had no idea we was going to use this photo of him and some of his crew.
Les Jones with his help obtaining permission to use the wall and his help throughout the weekend.
William Hunt for allowing us to use his wall.
Special thanks go to Nathan Nice for all his free time painting this.
Click here for a Youtube video
The RAF Upwood Website has been running since March 1998
Many thanks for all the people who have help me over the years, without your help the website would be alot smaller. Please keep the pictures and information coming.
Join us on FaceBook Group
For help and upto date information
Click on the link below to join
https://www.facebook.com/groups/2249191702023841/?ref=share

Also look for me on Instagram @rafupwood
Demolition of RAF Upwood has now started, for more information go to Demolition of RAF Upwood on the main menu bar on the left.
Sign and view my Guestbook
Please note, my old guest book has closed down due to HTML Gear shutting down their server
Many thanks to all the people who have signed my guest book, reading your remarks makes it all worth while
I am on the search for any Pictures of RAF Upwood of any sort, no matter how small or if you only have one. Any information that you have would be of great help also. Please drop me an email at rafupwood@hotmail.com.
Please Help!!!!!!!! Thanks Sean Edwards
rafupwood@hotmail.com